Automotive Locksmith Services in Philadelphia Pa & Suburbs
Locked out of your car, need a new car key, chip key, or ignition replacement? Vehicle owners don't need to go to their car dealer for automotive locks and key services.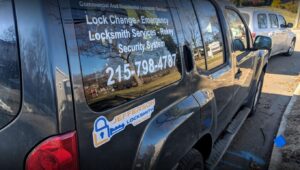 When it comes to cars, our local locksmiths do it all. Whether you bought a new car and it needs a key, lost your car key, need a key fob programmed, or simply know your key isn't working and don't know what to do – we have a locksmith near you that can help.
Our automotive locksmith technicians have years of experience and can make keys for nearly every year, make and model of car. Our 24/7 locksmiths in Philadelphia and the suburbs outside the city have specialized equipment to cut car keys; program transponder keys, remotes and fobs; and create new car keys on site. The best part? We come to you – meaning you don't need to pay expensive towing fees to get your car to the dealer. We also do ignition repairs and replacements, covering all your automotive needs.
Jefferson Locksmith helps motorists near and far who can't get into their vehicles for whatever reason. Some have lost their keys, accidentally broken keys off in a cold or jammed lock, locked keys in the car, or had them stolen. Our best Automotive Locksmith team can also reprogram your key fob if need be, or even reprogram your transponder. We also duplicate keys, extract broken keys, repair ignition cylinders, and more.
Our primary mission if getting people back into their cars and on their way, no matter where they are and no matter what time of the day or night it is.
Car Unlocks - Philadelphia Locksmith Service
Locked your keys in your car?  Never fear a car lock – we can get you in within minutes.
This is the standard service for drivers who need to get back into their cars. Our emergency locksmiths have specialized equipment and training to open your vehicle without causing damages. We do not recommend trying to unlock your car yourself, as it often results in chipped paint or damages to the doors. Just give us a call at (215) 798-4787, we have nearby locksmiths standing by, ready to head to your location within minutes.
Auto Locksmith Provides New Car Keys
Need a car key replacement, a new car key, key fob, or remote?
When keys are lost, stolen or broken, you need more than a door-unlocking service. We can replace your key and send you on your way. Our automotive locksmith specialists can make new car keys on the spot, coming to you and saving you expensive towing fees. Our locksmiths in Portland and Vancouver can create car keys for nearly every year, make and model of car, including Dodge, Ford, Nissan, Scion, Hyundai, Jeep, Cadillac, Buick, GM, Honda, Fiat, Chrysler, Lincoln, Mercury, Kia, Mazda, Mitsubishi, Subaru, Suzuki, Infiniti, Toyota and more.
If you need extra key or new ones cut to specification, we can do it anywhere. Simply give us an original and we'll cut as many fresh ones as you might need, two or two-hundred. Our key cutting service is precise, fast and inexpensive.
Some motorists end up with broken keys that need to be replaced or repaired. We can do either. But keep in mind that one of the problems with a broken key is that there's usually a piece of it stuck in a door lock, ignition or trunk. Our on-the-spot team member will make you a new key, get the broken piece out and send you on your way.
We also program transponder keys, remotes and key fobs, including keys for push to start ignitions.
Ignition Replacements from Professional Locksmith
Is a key stuck in your ignition, need key programming or is your ignition frozen in place?  We can help with high security locks!
This problem is becoming more common with the newer ignition systems. Our team can get a jammed key out and repair your ignition on the spot. Sometimes a jam can harm the ignition unit and keep it from functioning properly after the key is removed. If that's the case, we'll stick around after removing your key and make sure you can reinsert a freshly made one and be on your way. If the ignition won't accept the new key, we'll fix it then and there so you won't have any more worries.
Cars wear out over time, and ignitions are no exception to the rule. If your key is stuck in your ignition, we have a 24/7 emergency locksmith near you that can help you get it out. If your ignition is damaged and needs to be replace, we can also do that – and program the new key to work with your car. It's also okay if you don't know what the exact problem with your ignition is – if you're having problems, just give us a call. One of our mobile automotive best locksmiths can come out and help you diagnose the problem and discuss options for solving it.
Retrieval of Keys from Trunk by Philadelphia Lock Experts
Yes, people sometimes lock their keys in the trunk while loading and unloading groceries and other items.
Our team can fully program your transponder so you don't have to worry about lockouts.
Many newer cars use transponder keys that are electronically connected to the ignition system to prevent hot-wiring. In the near future, all car keys will be transponders. Our team can make you a new transponder key without having to contact the dealership. If you use our key services instead of the dealers, you'll save a lot of money.
If your car key is jammed into a door, the trunk or the ignition, we can remove it and clear the lock. Keys often break off or just get stuck in door locks, ignitions and trunk locks. This can happen to old, bent keys or even new ones that have been mangled or misshapen in some way. Not to worry. We can not only extract the key but can make you a brand new one on the spot.
One of the most common things people call us for is lost keys. We can arrive at your location and replace any key you have lost, misplaced, accidentally dropped down a sewer or somehow lost track of. We make keys on the spot and it doesn't matter whether they are "high tech" transponder versions or traditions keys. It's simple: if you need keys and don't have them, we'll come to you and make them. If you want multiple keys so you can hide them or carry extras in a wallet or purse, we're happy to duplicate your car keys for you.
Key FOB Programming or Replacement
For high-tech locks, we can entirely reprogram your key fob, or replace it if it's been lost.
Ignition Cylinder Repair and/or Replacement
When your ignition cylinder is jammed, broken or malfunctioning in any way, we'll get your back in the driver's seat by repairing or fully replacing it.
We'll repair or replace the ignition switch if that's your need. Many stranded motorists are the victims of faulty switches.
Ignition Key and Ignition Re-Keying
Many car owners need the entire ignition system re-keyed for security reasons after losing their keys or when someone gets hold of one of their duplicate keys. We can re-key the ignition and get you started with a fresh set of keys.
Trunk and Door Unlocking:
It's a simple as it sounds, but if you're stranded somewhere and need a door or trunk opened, we can get you in.
It happens to everyone at one time or another. They drop their keys into the trunk while loading groceries or other items, close the truck and forget to retrieve the keys. Now, you're left with a locked trunk that contains your only set of keys. Call us and we'll be glad to pop your trunk open. And it doesn't matter whether you have a standard trunk lock or one of the newer electronic locking systems. Our team can get into any locked area in less than a minute.
We offer a full range of automotive locksmith services and roadside assistance for all makes and models of luxury cars, many of which have high-tech locking systems and devices.
Service for All Makes and Models
Our team can handle any locking system on any car, no matter the make, model or year. We service vintage, historic and collectible cars as well, regardless of age or value.
We come to the rescue! 24 HOURS / 7 DAYS PER WEEK Emergency & Mobile Locksmith Service
Frequently Asked Questions
Most frequent automotive locksmith questions and answers
What makes some car and motorcycle keys so expensive to make?
Vehicle security like everything else is constantly evolving and becoming more technically sophisticated. Most late model vehicles are equipped with a type of anti-theft system called transponders and keys use an electronic fob. In order to program these types of keys / fobs, locksmiths have to invest in the equipment, training, parts, key code subscriptions and machines.
Can a locksmith cut a key from a number?
In many cases, keys can be made by a locksmith from the code number of a lock. This is common with vehicles, padlocks, filing cabinets, etc. They cannot be made from VIN numbers.
How can I obtain the key code to my lost car keys?
You will only have access to this code if you are the original buyer of the keys. This code is typically written on the original bill of sale which you may have or the car dealership may have it. It's rare, but the code may be written on the cover of the owner's manual. So check this as well. If you have the key code, it can save you money when you need to have your lost key duplicated.
Can I buy lock opening tools?
No. It is illegal in most states to sell or possess burglary or entry tools.
Locksmith Estimate

Get Free No Obligation Quote Today!
No matter the type of locksmith services needed, we can help. Enter your details to get your free, no-obligation quote.
Our #1 priority is you, the customer. Our work is based on such values as: